As digital finance evolves in the financial services industry, Bloom provides a platform for freelancers to move from cash and checks to digital payments.
Vancouver, Washington- Bloom is a modern all-in-one management software for freelancers and small business owners. They recently launched the first invoicing tool for Creative freelancers which is completely free, has no limits and does not require an account. Through this platform, freelancers can access a free invoice generator to create a more professional customer experience, retain more of their revenue by eliminating fees, and reduce late payments.
There's a whirlwind of headlines these days: The future of work is here, thanks to the pandemic that transformed millions into virtual workers overnight. The new normal has enabled a power shift accelerating a big move toward freelancing. The freelance revolution gained momentum in 2022 and is set to soar in 2023. 'Very skilled professionals are now choosing self-employment over traditional employment. This will continue to grow tremendously as technology has matured to give back to creatives, shared Bloom's team at launch.
"Bloom is the new standard for how creative freelancers will book clients," shared Paul Mikhaylenko, the CEO and co-founder of Bloom. Many freelancers still ask for payment by check or cash, an outdated practice that no client appreciates. Merchant tools are intended exclusively for developers or retail stores. Finally, others use financial tracking tools designed for large companies that offer a dated and complicated experience. With the launch of Free Invoice Maker by Bloom, freelancers will now be able to get paid faster and book more clients to earn more money.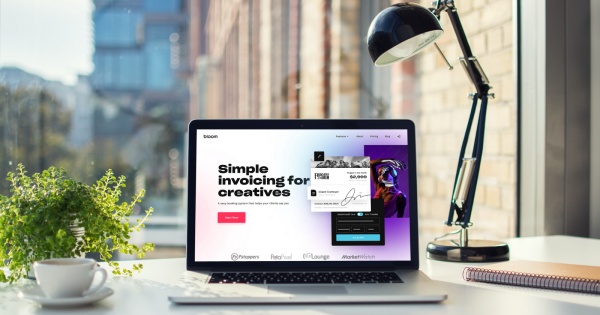 The freelance revolution has widened the doors of digital payments.
There are many invoicing tools out there, but none designed specifically for freelancers. At first glance, the invoice generator looks user-friendly with a clean and modern design. Users can upload a logo and choose a cover image to provide a more personalized checkout experience for their customers. Freelancers can add discounts, tips, and contracts to invoices. There are no hidden charges or fees, which guarantees getting paid online quickly and easily.
Bloom invoices can be emailed, downloaded as a PDF, or sent to a customer via a link. All invoice templates can also be saved for repeated use. Payments are easy as they are integrated with Square, Stripe, CashApp, Venmo, Paypal and Zelle.
Independent invoice generator Bloom received an overwhelming response within days of its launch. Joel Grimes, educator and commercial photographer reviewed the free invoice generator; He shared: 'I Use Bloom Invoice Generator to create unlimited business invoices in seconds. I send a personalized link with an ACH payment option for all my customers. It's the best free solution I've found for creatives looking to boost their professionalism and make the best impression on clients. Forged In The North founders Ryan and Heidi also shared their experience using the freelance invoice generator: 'I have used several online invoice generators, and I can tell you that Bloom has the best pdf invoice template of any tool I've tried to use. In addition to being intuitive, the templates are sleek and professional. I can be proud when I send them to my customers. Recognized as one of the best wedding photographers in the world by Brides Magazine, Ryan and Heidi run a business where payments are made every day. They have experienced significant growth in their business as a result of using an invoice generator. 'kiss modern digital payments and streamline your business in a professional way, because it makes all the difference,' concluded the successful photography duo.
Although the invoice generator is free, Bloom has the option to upgrade to its full suite of tools for photographers. With the CRM suite, all your business management and invoicing tools will be in one place, along with contracts, emails, scheduling and booking tools, and asset delivery.
Bloom is offering new customers a 50% discount on their subscriptions to celebrate the launch of the platform. Use promo code: 50OFF to access the full range of features including unlimited projects, contract signing and instant booking. Bloom monetizes its full CRM suite of business tools available whenever users want to upgrade, starting at $29/month.
For more details and information, visit their website.
About Bloom
Bloom is a modern and easy to use management system. Paul, CEO and co-founder of Bloom.io, the suite of business tools designed to help creative business owners get back to their craft and earn more money.
Media Contact
Company Name: Bloom.io
Contact person: Paul Mikhaylenko – CEO and co-founder of Bloom.io
E-mail: Send an email
Town: Vancouver
State: Washington
Country: United States
Website: https://bloom.io/invoice-generator